How about a little contest to add even more excitement to the holiday season??  I've taken inspiration, with permission, from fellow photographer Bre Thurston of Southern Cali, to kick off my first ever Best Portrait Contest.  I had a blast going back through all of my client image folders and picking my favs that I felt really represented each session best.  Now it's your turn to cast your vote and let us know which you think is the best of 2010.
[here are the rules]
1.  Each individual person may vote for one photo, one time only.  IP's will be tracked so please don't be shady and try to vote more than that.  Please and thanks  🙂
2. To cast your vote, just leave me a comment in the comment section below.  Please include comment under this blog post "ooooh exciting" and not within another blog post comment box.  Please identify by coordinating image number.
3.  If you're not a Fan on Facebook, head on over and hit "Like" now.  Fans, and only fans, will get a ONE MORE VOTE! Please indicate in your comment below that you have "Liked" the Fan Page.
Also, winners will be announced on the Bellini Portraits Facebook Fan Page so keep checking there for updates!
4.  Please double check to be sure your email is typed in correctly.
5.  Send this to all of your friends and family and get them to vote, too!
[here are the prizes]
1st place : (1) 16 x 20 Gallery Wrapped Canvas of the winning photo
2nd & 3rd place : 11 x 14 styrene mounted print of the 2nd & 3rd place photos.
4th & 5th place : $50 print credits towards future session.
Contest will end Sunday December 5th at 11:59pm!!  So go cast your vote!!
without further ado, here are the images!!!!!
2. "girl in lavender dress"
3. "girl holding lemons & apples"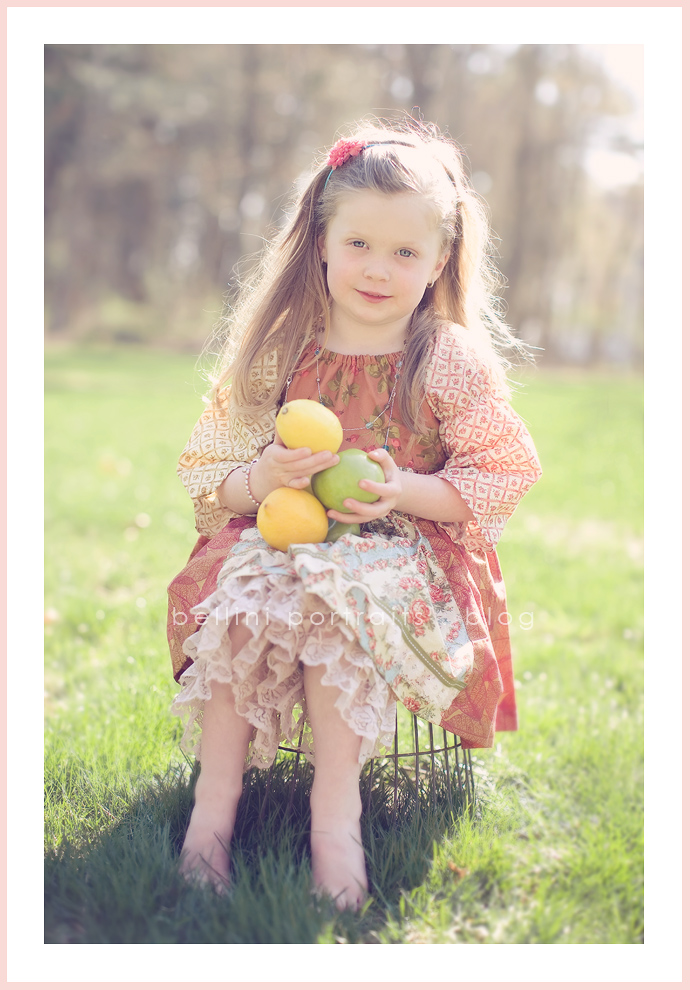 4. "baby with flower headband"
5. "girl in vintage stork rocker"
8. "baby girl sticking out tongue"


15. "girl smiling on quilt"
21.  "newborn in crocheted wrap"
41. "boy agains green barn"
49 .  "girl with candy colored necklace"


THE FINE PRINT:
I reserve the right to make changes to the contest at any point.  Clients may not ask to change the photo chosen for the contest.  Prizes will be delivered in January 2011.
Thanks for playin'!!!
HAVE A WONDERFUL THANKSGIVING.
Gobble Gobble.